DRUID ACADEMY PROGRAM
Become a DRUID Conversational AI

Professional Author
With advanced no-code authoring, leading analytics, real-time evaluation tools and a comprehensive integration layer that bridges the gap between humans and systems, DRUID enables companies to deploy conversational AI-powered business applications that improve user experience, reduce churn, and boost revenue.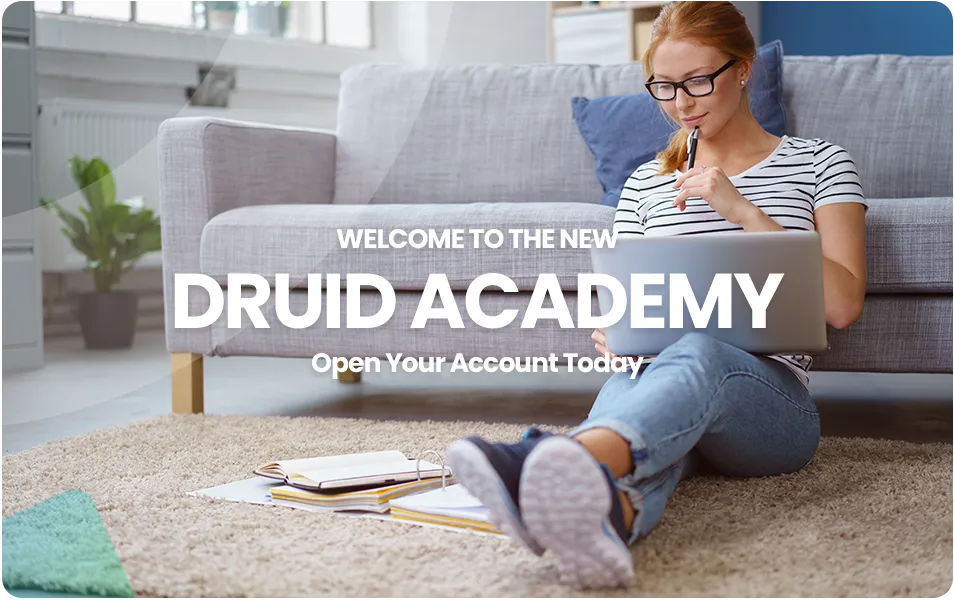 ▶️ Creating a new bot
This tutorial teaches how to set up a bot using the DRUID AI Platform. After logging in, users can create a new bot by selecting "Add New Bot" from the bot menu, naming it, and choosing its default language.
▶️ Import your first solution
In this step-by-step tutorial, we delve into the process of importing and configuring a basic bot solution known as the DRUID Starter. Ideal for those keen to understand the essentials of conversation flow, and see it in action.
▶️ Prompt steps
Capture and store the information you collect from the conversations in local variables or entities. Learn about conversational flows and set up your first prompt step in the DRUID AI Platform.
▶️ Customise the webchat
Learn how to customize your web chat window on the DRUID AI Platform to align with your company's visual guidelines. Change fonts, colors, and dimensions to best suit your brand.
CHOOSE YOUR LEARNING
Over 50 Video Lessons and multiple Technical and Sales Certifications
DRUID Academy hosts multiple learning tracks based on short video lessons that will guide you through the most important configuration steps of the DRUID Platform. Your certifications will be available at the end of the courses and will certify you as an Advanced Conversational AI Virtual Assistant Author.
BOOST YOUR CAREER IN AI
Create Impact with DRUID AI Academy Certifications
DRUID AI Certifications will attest that you have completed all the lessons, passed every quiz, and finished all the hands-on assignments. Each certificate is generated automatically and can be tracked based on its serial number.
Available diplomas:
Technical Certifications
Sales Certification
Coming soon: Business Analysis Certification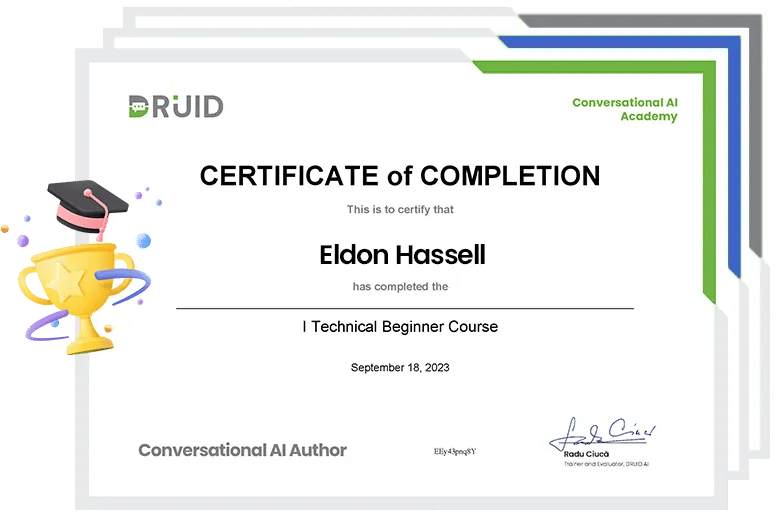 TESTIMONIALS
What our students say
"We needed a way to show our senior leadership team that our sales team can understand the DRUID AI Platform and all the benefits that the Conversational AI solution can bring to our clients."
"Plenty of videos and learning tracks that cover all the technical aspects of setting up a chatbot directly from DRUID's authoring platform. I liked the quizzes and the certifications I've got at the end of the courses."
"The technical certification consists of three courses that start with Beginner, Intermediate, and Advanced difficulties. Very helpful videos and I appreciated the access to the practice sandbox area.
What is the DRUID Academy?
DRUID Academy is a Learning Management Platform. It is the single point of learning for technology partners, clients, and anyone who wishes to learn how to build intelligent virtual assistants or assess businesses that wish to transform themselves digitally through Conversational AI.
What will i learn here?
You can learn the technical side of building DRUID intelligent assistants. You can also learn the sales side of the product, which will help you understand how DRUID Conversational Business Apps fit into the growing demand for enterprise automation. Business Analysis courses are also available.
Will I get certifications for completing the courses?
Yes. You can get completion and graduation certifications for all DRUID Academy Courses if you go through all the video lessons, get passing grades on the final quizzes, and demonstrate that you can create your own bot by completing the practical assignments from the technical learning tracks.
Are the trainings completely free?